Unofficial Listing of the SSA Certificates of Appreciation
---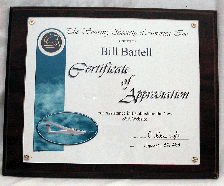 Recipients of the SSA Certificates of Appreciation have been as follows:
2022 - Mohawk Soaring Club, Cathy Williams, Tony Smolder
2021 - Orrin Beckham, Dan Colson, Keith Hilton, James Martin, Jim Staniforth, Daniel Sazhin
2020 - Rolland Nakashima, Martin Opitz, Walter Stiedieck, M.A. Takallu, Leon Zeug
2019 - Piet Barber, Tony Condon, Fred Huenl, Rick Lafford, Eric Lambert, Ramy Yanetz, and Southern California Soaring Academy
2018 - Roy A. Bourgeois, Sue Martin, Safdar Nana, Ronald N. Ridenour, and Robert V. Sallada.
2017 - Peter Deane, Sean Fidler, Edwin Funk, Mike Havener, Imelda Koptonak, Scott Manley, Anne Mongiovi, Lee Murray, James C. Simmons, and Linwood P. Stevenson
2016 - Anfreea Alexandrescu, Morgan R. Hall, Mark Huffstutler, John Koptonak (Special), Melanie Nichols, Stallion 51, and Leigh Zimmerman.
2015 - Daryl Smith, Clement A. Smolder II, and James L. Wallis
2014 - Howard Banks, Ron Bellamy, Robert D. (Stoney) Stone, Jr.
2013 - Lynn Alley, Janice Armstrong, Gene Franklin, Pat and Hartley Galbaum, John "Corky" Gill, Keith Miller, and Anne Mongiovi.
2012 - Lane Bush, Robert Caldwell, Scott Manley, Chris Mannion, Graham Pitsenberger, Paul Searles, Randy Teel, and Geoff Weck.
2011 - No awards
2010 - Edward Bednarik, Leo P Buckley Jr., James W. Goebel Barry Muhlenberg, Patty B. Smith, Rhonda Tyler, and Gary W. Van Tassel.
2009 - Bob Gaines, Joshua Randel, SSA Foundation, and Larry Tuohino.
2008 - Dianne Black-Nixon, Cindy Brickner, John Dezzutti, Mike Graves Jay Massey, Penn Smith, Sterling Starr, and Al Tyler
2007 - John P. Dezzutti, Michael S. Koerner, David H. Pixton, James J Rizzo, Laird L Smith, and Peter W. Smith
2006 - Ian Cant, Sue Fassett, Doug Haluza, Abe Kalker, Mid and Ken Kolstad, Anne Mongiovi, Leslie Ramm, and Oats Schwarzenberger
2005 - Antelope Valley Soaring, Inc., Associated Glider Clubs of Southern California, Cindy Brickner, Gevin Brooker, Cypress Soaring. Doug Easton, Lake Elsninore Soaring, John Feldsted, Chip Garner, Todd Herzog, Karol Hines, Valerie Keene, Long Beach Soaring Club, Erik Mann, David Newill, Orange County Soaring Association, Phoenix Club Soaring Group, Titan Scholltemeyer, Sierra Soaring Club, Jim Skydell, Pentleton Smith, and Latty Tuohino.
2004 - Bill Bartell, Rich Carlson, Chilhowee Soaring Association, Burt Compton & Marfa Gliders, Helen Dick, Knauff & Grove, Miami Gliders, Steve Hines, Mark Keene, Robert Lacovara, LMEA Soaring Club, Mark Maughmer, Philadelphia Glider Council, Frank Reid, Charlene Richard, Karin Schlosser, Jim Skydell, Sterling Starr, Dave Stevenson, Bob Wander, and Chris Woods.
---

Return to the SSA Awards Table of Contents?
---
Please contact John Leibacher with any suggestions concerning this material.
Page last updated on
---